Click to download ApneaGraph Spiro brochure

new APNEAGRAPH SPIRO : DIAGNOSE OBSTRUCTIVE SLEEP APNEA. LOCATE SITE OF OBSTRUCTION. IMPROVE PATIENT OUTCOME
The new ApneaGraph Spiro provides the clinician with diagnostic information to identify the optimum treatment pathway,
for example surgical procedures, CPAP or Mandibular Advancement.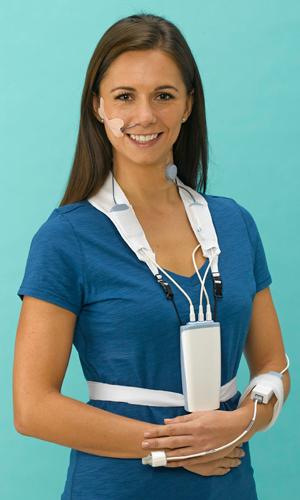 The ApneaGraph Spiro is also the only ambulatory system which deploys the recommended 'gold standard' Oesophageal Pressure,  for determination of both Respiratory Effort (RE) and  increased RE leading to arousals.
Features and benefits of the system include:
Diagnostic information on type, severity and location of OSA
NEW – Location of obstruction in OSA as well as snoring
NEW – Improved snoring detection
NEW – Actigraphy highlighting. Periods of patient activity (wake periods)
NEW – Respiratory effort frequency (REF) based on the oesophageal pressure recording over whole night. In addition to usual assessment of Normo-, Tachy- and Bradypnoe this new algorithm increases the ability to differentiate easily between obstructive and central apneas and provides useful information in the assessment of Cheyne-Stoke Respiration. (CSR).
Revolutionary, small, easily tolerated catheter with micro
pressure-sensor technology.
Validated against cardio-respiratory polysomnography.
Guidance to all treatment modalities, including pre-operative evaluation of site of obstruction to help improve patient treatment outcomes.
Easy quick set up (in home or clinic environment)
Well tolerated by the patient
No patient interaction needed (automatic start/ stop option)
---
The ApneaGraph Spiro performs time controlled measurements of 9 Cardio Respiratory parameters recorded to internal memory/ memory card:
Transnasal Oesophageal Catheter – Two pressure sensors (just below the soft palate and oesophageal pressure) for assessment of site of obstruction and quantifying of respiratory drive.Two airflow sensors (breathing detection and differentiation of breathing through nose and mouth)
Pulse Oximeter – Records oxygen saturation and pulse rate
Snoring – Two microphones at the neck (one contact microphone, one airborne microphone).
Body Position – From accelerometer situated in the data collection torso unit. A 3 axis
accelerometer differentiating "upright", supine", "prone", "left" and "right" position.
Actigraphy – A 3-axis digital accelerometer located in the wrist unit. For highlighting periods of patient activity, for instance wake periods
Respiratory Frequency – Providing continuous display of the respiratory frequency based on the unique oesophageal pressure recording during the complete overnight recording
New and improved software
reporting with ribbon layout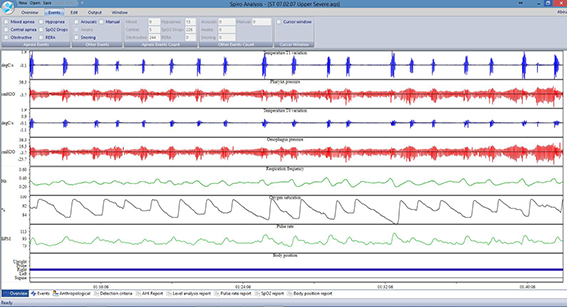 The new ApneaGraph Spiro analysis software offers improvements in terms of the  reporting capability and additional new diagnostic features.
The new ribbon based layout allows customer friendly
selection of display parameters or analysis reports. The
upper ribbons allow you to choose parameters, time frames
event highlights, cursor controls as well as additional
derived displays to ease difficult analysis decisions.
The lower ribbon provides choice between the display
of parameters, patient data, detection criteria or analysis
reports. Display parameters include:
NEW: 2 Respiratory Flow Recordings (nasal and oral)
2 Respiratory pressure recordings (pharyngeal and oesophageal pressure)
Respiratory frequency
NEW: Pressure Difference display
SpO2
Pulse Rate
NEW: 2 Snoring recordings (one contact, one airborne, microphone)
Body position
NEW: Actigraphy
For further details on the functionality, features and benefits of the new ApneaGraph Spiro, visit  the manufacturers website www.spiromedical.com
We would be delighted to discuss your interest in the new ApneaGraph Spiro in more detail, please contact us directly on (+44) 01451 812402 or via email info@gds-medtech.com and we will be happy to assist you.