Click Here to download the AlaxoStent brochure

The AlaxoStent is a new treatment option for patients with OSA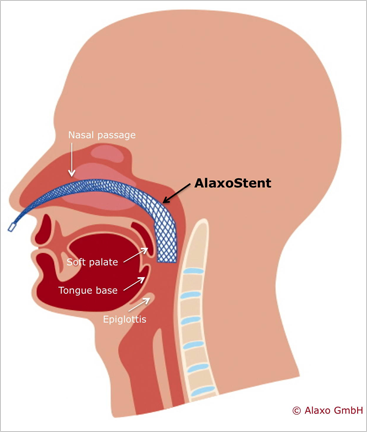 The AlaxoStent is a new treatment option for patients with OSA, snoring or patients who are unable to tolerate CPAP therap or are unable to utalise the CPAP on specific occasions such as travel.
The AlaxoStent is a medical device the patient can insert into their  nose and throat at night and remove in the morning. Prescribed by the ENT surgeon, the AlaxoStent is a smooth, tubular braid manufactured from memory metal (Nitrol) The AlaxoStent  is suitable for Sleep Apne apatients presenting predominately in the soft palate region.
Contact your ENT Surgeon for a recommendation
Following recommendation and guidance by an ENT surgeon, the AlaxoStent can be self- fitted by the patient before sleep to maintain the patency of the airway during sleep. The AlaxoStent has been the subject of clinical studies in Germany, for example ENT University Hospital Erlangen.